At Combilift, we are proud to say that our people are among the most talented and driven in the world. A family company, we're committed to nurturing the rich vein of skill and resourcefulness that exists right here on our doorstep. To fulfill this, we provide traineeships to teach and develop engineering skills essential for employment in the engineering manufacturing sector
"As the company continues to grow there are career opportunities in Combilift for the high-quality students who complete the traineeship.  They receive an excellent blend of practical training and knowledge from the course which means they are job ready."

– Martin McVicar, Managing Director, CombiLift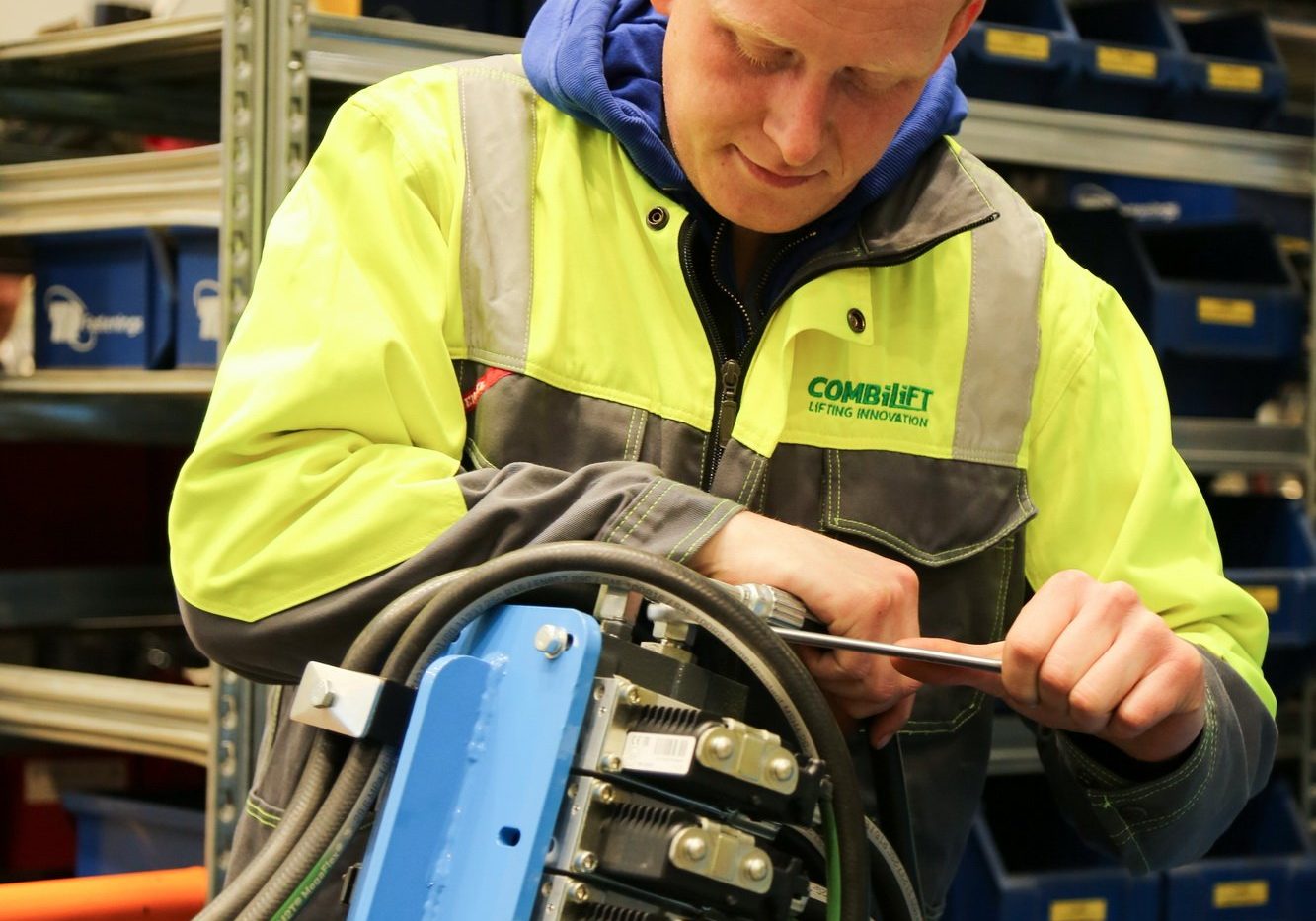 State of the art facilities, a global reputation and a continued drive to innovate for the lifting and handling industry mean Combilift can offer exciting and rewarding employment opportunities. Combilift has partnered with Cavan and Monaghan Education and Training Board (CMETB) at Monaghan Institute to establish and deliver the OEM Engineering Traineeship, a one year course aimed at developing the skilled personnel the company needs to support its future growth. Last year, 100% of the students who completed this course secured employment with Combilift and with plans afoot to double productivity in the next five years, it is expected that this trend will continue.
"You are taught the theory through the practical demonstrations and then you get the real experience of working in the factory. The bonus is that we got a job offer from Combilift on the day we received our results." – Aidan Campbell, OEM Traineeship graduate
Comprising 26 weeks of theoretical learning within Monaghan Institute and 12 weeks of practical work experience at Combilift, the OEM Engineering Traineeship is internationally recognised, with certification from City & Guilds and QQI at Level 5 Engineering. It offers a solid grounding in all of the key skills required for a career in engineering, namely machining, fitting, control systems, auto electrics, CAD and hydraulics. The course is fully funded by the European Support Fund so there are no course fees and students may be eligible for a bursary from Combilift or the DSP. Combilift also provides a toolkit for each trainee. Applications are now open.
The course gives a comprehensive grounding in all the essential skills and technologies routinely employed at Combilift and indeed any engineering facility.  These include Control Systems, Hydraulics, Computer Aided Design (2D), Safety & Health at Work, Auto Electricity, Electronics, Engineering Drawing, Team Working, Work Practice & LEAN Engineering Workshop Processes, Engineering Workshop Theory and Word Processing.
WHAT DOES THE COURSE COST?
There are no fees for this course. If you are in receipt of Department of Social Welfare payments you may be able to continue to receive these and should check this with your DSP officer. You will be entitled to a travel or accommodation allowance, a meal allowance and access to the CETS Childcare scheme.  For those not in receipt of a DSP payment, a bursary may be payable. This is at the discretion of the employer and is subject to satisfactory conduct and attendance.
On successful completion of the course, students may apply for employment in Combilift Ltd or for an Apprenticeship. They may also use the results from this course instead of Leaving Certificate results to apply through the CAO for entry to year one of a range of higher certificate and degree programmes at Institutes of Technology and Universities. Further information is available from the Career Guidance Counsellor in Monaghan Institute.