Den kostnadseffektive løsningen for håndtering av containere og overdimensjonerte laster
Combilifts utvalg av portaltrucker og mobile portalkraner gir trygge, effektive løsninger for selv de mest ekstreme lasthåndteringssituasjoner. Distribusjon, frakt, romfart, stålfabrikker, vindturbiner og prefabrikkert betong – ingen last er for stor eller for tung for disse arbeidshestene.
Containers
The COMBI-SC offers unbeatable turnaround speed with safe stuffing/de-stuffing at ground level. It is a cost effective and flexible...
Modular Construction
Increase Safety, Storage and Efficiency when handling Modular Construction Components by Investing in Combilift.
Concrete
The Combi-SC is the best method for handling precast concrete, whether it is hollow core, slabs, beams or concrete pipe.
Structural Steel
Combilift's COMBI-SC is the best option for structural steel production and general steel industry.
Manufacturing
The Combi-SC, Straddle Carrier range is the most economical handling solution for distribution, shipping, and industries.
Coils/Cable Drums
Increase Safety, Storage and Efficiency when handling Coils/Cable Drums by Investing in Combilift.
Green Energy
Combilift's range of straddle carriers provide safe, efficient solutions for even the most extreme load handling situations. There's is no load too large or heavy for these workhorses.
Miscellaneous
Every Combi-SC is highly customisable and can be built to your exact requirements becoming the ideal solution to the material handling challenges you face.
Den kostnadsbesparende løsningen
Combi-SC-serien er den mest økonomiske håndteringsløsningen for distribusjon, frakt og bransjer med tung og overdimensjonert last. Dens manøvreringsevne, lette fotavtrykk og høye tilpasningsevne gir full uavhengighet ved flytting av containere og overdimensjonert last.
COMBI-SC kan skreddersys slik at den passer til ditt bruksområde. Den er tilgjengelig med diesel, gass, elektrisk og nå også som en fjernkontrollversjon. Kundene har et bredt utvalg av alternativer å velge mellom. Disse inkluderer firehjulsdrift, 20′ og 40′ automatisk toppløft, et teleskopisk anlegg, lastestabilisatorer, kamerasystemer og klimaanleggslugarer.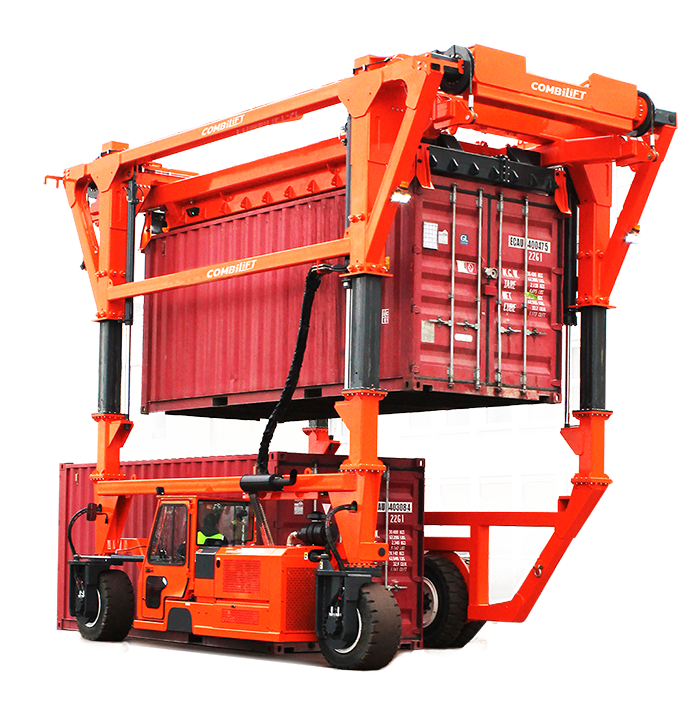 Svært tilpassbar
Automatisk feste for å håndtere ALLE produkter
Uavhengig sideforskyvning foran og bak
Fjernkontrollalternativ tilgjengelig
Lavt marktrykk ved full last
Redusert drivstoff-/energiforbruk
Ingen bremsevedlikehold
Reiser inn og ut av lageret med letthet
Håndterer tøft terreng og ramper
Lett å vedlikeholde – lett tilgjengelig motor på bakken
360-graders sikt når lasten løftes
Eksepsjonell trehjulstrekkbarhet
Sideforskyvning foran og bak
Myke punkteringssikre dekk
Ergonomisk utformet førerhus for komfort
Rask, pålitelig og reduserer produktskader
Redusere driftskostnader
Øk sikkerheten
Lett å betjene
Containerhåndteringsløsningen
Combi-SC maksimerer produktiviteten din takket være dens evne til å reise langs 1,6 m brede områder, slik at containere kan stables oppå hverandre. Det er i stand til å håndtere store kapasitetsbeholdere på 20, 30, 40 og 45 fot, kjølebeholdere og flate beholdere.
Plassen som kreves er bare for hjulene på portaltrucken, en løsning som gir høy utnyttelse og full tilgjengelighet. Trehjulskonseptet gjør maskinen ekstremt smidig, slik at den kan snu på stedet. Dens lave ubelastede vekt betyr at drivstofforbruket og bakkepåvirkningen er mye mindre enn for tradisjonelle lastebiler med containere.
Seks tilgjengelige styremoduser
Seksmodus, flerveis styring tillater presis og sikker transport av materialer, noe som gjør den til en svært fleksibel og effektiv transportmetode.
1. Forhjulsdrevet styring
2. Bakhjulsdrevet styring
3. Firehjulsdrift
4. Krabbestyring
5. Karusellstyring
6. Flerveis i fire retninger
Utformet for enkel transport
COMBI-SC kan pakkes flatt og sendes hvor som helst i verden, siden den er utformet for enkel og kostnadseffektiv transport med henger eller container – noe som gjør flytting av maskinene til en enkel jobb.
Henvendelse om dette området
Våre ingeniører gir deg den ideelle og mest kostnadseffektive materialhåndteringsløsningen på markedet.