The Cost Effective Solution for Handling Containers & Oversized Loads
Combilift's range of straddle carriers and mobile gantries provide safe, efficient solutions for even the most extreme load handling situations. Distribution, shipping, aerospace, steel fabricators, wind turbines and precast concrete – there's no load too large or heavy for these workhorses.
Containers
The COMBI-SC offers unbeatable turnaround speed with safe stuffing/de-stuffing at ground level. It is a cost effective and flexible...
Modular Construction
Increase Safety, Storage and Efficiency when handling Modular Construction Components by Investing in Combilift.
Concrete
The Combi-SC is the best method for handling precast concrete, whether it is hollow core, slabs, beams or concrete pipe.
Structural Steel
Combilift's COMBI-SC is the best option for structural steel production and general steel industry.
Manufacturing
The Combi-SC, Straddle Carrier range is the most economical handling solution for distribution, shipping, and industries.
Coils/Cable Drums
Increase Safety, Storage and Efficiency when handling Coils/Cable Drums by Investing in Combilift.
Green Energy
Combilift's range of straddle carriers provide safe, efficient solutions for even the most extreme load handling situations. There's is no load too large or heavy for these workhorses.
Miscellaneous
Every Combi-SC is highly customisable and can be built to your exact requirements becoming the ideal solution to the material handling challenges you face.
The Combi-SC range is the most economical Handling Solution for distribution, shipping and industries with heavy and oversized loads. Its manoeuvrability, light footprint and high customistaion offer complete independence when moving containers and oversized loads.
The COMBI-SC can be highly customised to suit your application, available in Diesel, LP Gas power, Electric and now available as a remote control version, customers have a wide array of options to choose from. These include all-wheel drive, 20′ and 40′ automatic top lift, a telescopic facility, load stabilisers, camera systems and air conditioned cabins.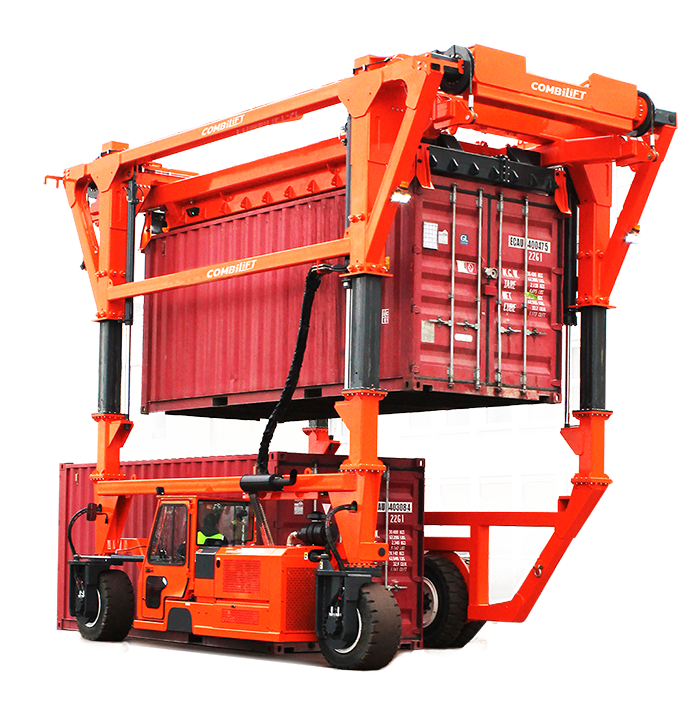 Highly Customisable
Automatic attachment to handle ALL products
Front and rear independent sideshift
Remote control option available
Low ground pressure when fully loaded
Reduced fuel/energy Consumption
No brake maintenance
Travels in/out of warehouse with ease
Rough terrain & ramp friendly
Easy to service – ground accessible engine
360° degree vision when load is lifted
Exceptional 3-wheel manoeuvrability
Side shift front & rear
Soft solid puncture proof tyres
Ergonomically designed cab for comfort
Fast, reliable and reduces product damage
Reduce operational costs
Increase safety
Easy to service
The Container Handling Solution
The Combi-SC will maximise your productivity thanks to its ability to travel along 1.6 m wide spaces, allowing containers to be stacked on each other. It is capable of handling large capacity containers measuring 20, 30, 40 and 45 feet, refrigerated containers and flat containers.
The space required is only for the wheels of the Straddle Carrier, a solution that provides high utilisation and full accessibility. The three wheel concept makes the machine extremely agile, allowing it to turn on the spot. Its low unloaded weight means that fuel consumption and ground impact are much less than those of traditional container carrier trucks.
6 steering modes are offered
The, six mode, multi-directional steering allows precise and safe transport of materials, making it a highly flexible and effective method of conveyance.
1. Front wheel drive steering
2. Rear wheel drive steering
3. Four-wheel-drive steering
4. Crab-wise steering
5. Carousel steering
6. Multidirectional in 4 directions
Engineered for ease of transport
The COMBI-SC can be flat-packed and shipped anywhere in the world as it is engineered for simple and cost-effective transport, by trailer or container – making relocation of the machines an easy job.
Our Engineers will provide you with the ideal and most cost effective material handling solution in the market.